Organisers of Axbridge Pageant are celebrating after receiving a substantial grant from Arts Council England.
The Axbridge Pageant is a community arts event and has been held regularly since 1967 when a celebration of the town's history was held in the town square, since then it has been held in 1970, 1980, 1990, 2000 and 2010. Due to the Covid Crisis it was postponed from 2020 to last year, when it was held over the August bank holiday weekend.
"The grant of £19,572, paid in instalments as conditions were met, helped make the community event a huge success," says a spokesman.
Legacy events have included a day long photography and film exhibition while more events are planned.
Phil Saunders, Chair of Axbridge Pageant, says: "It is with great pleasure that I can now confirm that Arts Council England have now made their final payment of National Lottery Project Grant to the Axbridge Pageant Association, in respect of the Axbridge Pageant 2022."
"Arts Council England's ongoing support has represented important recognition of the country's only regularly enacted large scale Pageant."
"In making a successful funding application, the Axbridge Pageant has shown how it is created by and enacted for our whole, diverse community. Our thanks go to all our partners and supporters – and to all of you who worked so hard to secure our collective success and long-term legacy."
He added that the cash paid to the Axbridge Pageant Charity ensured the event could take place last August.  With overheads from security, seating, costumes, road closure fees, hall hire, insurance and advertising costs the event needs ticket sales and other revenue of around £81,000 to stage.
The Artistic Director John Bailey also welcomed the news, saying: "A large group of people helped with fund raising and grant applications. For the future, in the run up to 2030, we are planning events such the progressive supper, rock concerts and sponsored walks."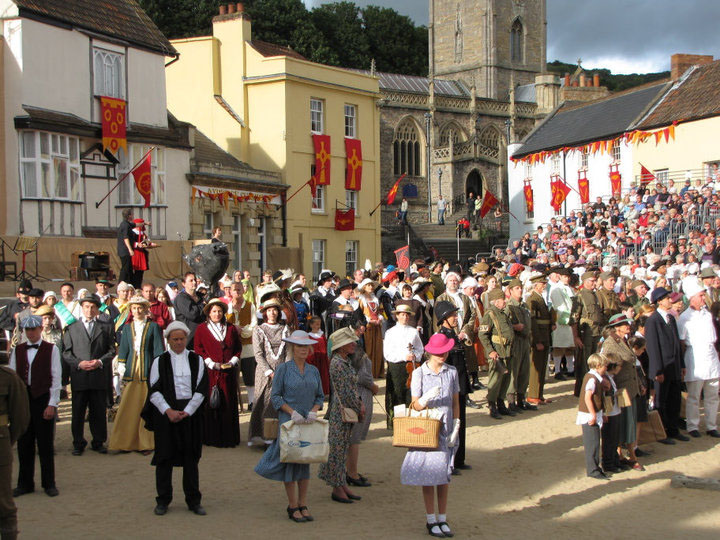 The pageant was held last year over the August bank holiday weekend and was blessed by fine weather and a sell out audience along with popular music events each evening in the town square.
The next Axbridge Pageant will be performed on Saturday-Monday, 24-26 August in 2030.